My Life

Just Chris
Rollercoaster Ride
Photo Galleries
My Dad (1927-2002)
My Cat Drakkar (1988-2001)
For Brent
My World
DJ / VJ Music & Video
Logan Lipton Fan Club
The Book I Wrote
History
Asbury Park NJ
St. Paul & Minneapolis MN
Cape May NJ
Vintage Postcards & Magazines
Entertainment
Studio 54
GLBT Nightclubs
Walt Disney World
Lucille Ball
Movie Guide

Everything Else
Affordable Web Design
YesterYear Memories
Links



"Chris goes to Paradise" - After years of waiting, on Saturday November 16, 2002, I got a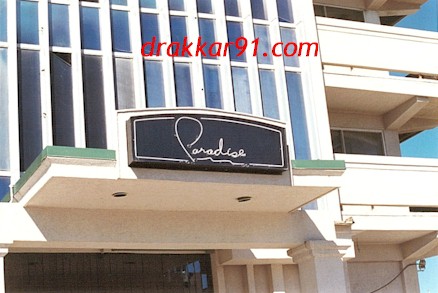 first hand experience at Paradise! It's difficult at best for Innkeepers to have time off, let alone on weekends. But during the off-season, Brent gave me a weekend ticket to visit my family in NJ. Unfortunately, this was also the weekend of a "Nor-easter" or Northeaster storm. By Saturday afternoon, a driving rain and high seas were in force and I wondered if my Saturday night in Asbury Park would be a wash. As luck would have it, Mom let me out for the night!!
I arrived in to Paradise about 10:45pm. I was surprised (considering the weather) that the parking lot was already full and folks were parked in the vacant lot across the street. I parked, withstood the driving wind and rain and made my way quickly for the front door. I was politely greeted and turned over my $7 cover charge, fair enough for a Saturday night (I think the price goes up later in the evening).
Finally, I had arrived in Paradise! For those of you who are not familiar with, or have never been to Asbury Park New Jersey, check out my Asbury Park history at (which includes historic images of the Empress Motel, the current home of Paradise): http://www.drakkar91.com/ap
I entered into the main bar, a long bar with about 30 or so seats on each side. Two bartenders served this bar which included a large center section decorated for the Fall! Along the right wall, separated by a railing, is lots of comfy seating with cushions and small bar tables. Two monitors near the entry played some "Reel-Gay" video's. There's a cigarette machine, six bucks I think. On the opposite wall, a ledge for drinks and some mirrors. I made my way along the right side of the bar, heading towards the dance floor. The good sized space sits behind the main bar and is rectangular in shape. To the right, another smaller bar with one bartender. Further along is a dark area with some tables and seating. A good spot for die-hard dancers.
After we conclude our tour, we'll talk about the dance floor, light show and music!
Curious to explore before I selected a bar to get a drink (there were 4 bars available), I cruised to the other side. A door, usually open due to traffic leads to a long hallway opposite the outdoor pool. Of course, the pool area was closed, because it was November, and the wind and rain! Look liked a great summer spot to hang. Just across from the main bar and dance area, is yet another (smaller) bar and dance floor, as well as pool tables and video games. I am guessing this is the area that is open on slower nights of the week. There were about 5 or 6 video monitors about the room. Two bartenders graced the bar here. Along one wall, plenty of tables and seating to view the dance floor area. The music in this room was quieter, and more familiar to the average listener. I picked this bar for my first drink, then meandered back into the hallway - wondering where it would lead? It led to a back room, with yet another bar, more pool tables and video games, a coat check and a cozy space with sofas and candles and great lighting. This was the quietest room of them all, good for conversation, but with familiar music (Cher) in the background. I checked my coat, chatted with the coatchecker (more later) and returned to the main bar/dance floor area (disco for lack of better terms).
For the most part, I stuck to the sidelines taking in the light show and music. If the website was accurate, Shep Pettibone himself was spinning, but with the weather, maybe he took the night off? Unfortunately I don't know what he looks like, so your guess is as good as mine.
And now for the music and lights show: AWESOME for lack of a more modern term. I counted at least 18 intelligent lighting units (those monster electronic gadgets that swing light and patterns all over the space). Yes, 18, at least. Maybe more, but 18 for sure. Most clubs are happy to have 6 or 8 of them. Add to that, blinding strobes, and pounding music from the ample sound system. Two large mirror balls, and a laser that was a light show in and of itself.
So let's review - 18 intelli and techno beams, blinding strobes, pounding music, a laser light show, fog (available in massive quantities) and dancing boys and men! This was definitely a trip to Paradise - I can only imagine the volume of people they must handle on a Saturday night when the rain is not coming down in buckets with gale force winds!
Too much for you? You'll be fine exploring one of the other bars, or in summer, that lovely outdoor pool area. As for me, leave me at, and eventually on the dance floor.
And then there was the music - having been trapped in Vermont for the last several months, I wouldn't have known most of it had it not been for my old DJ friends in the Twin Cities. The playlist included (in no particular order): A Deborah Cox Megamix, Madonna's Die Another Day, Various Deborah Cox's tracks including Mr. Lonely, Pink's Like A Pill, and a killer mix of Taylor Dayne's Naked Without You (I'm almost certain it was the same mix I played for the DanceOne event in St. Paul in 2000)! The anthem of the night was no doubt, Gloria Gaynor's I Never Knew which roused the crowd like nothing played before it. My only disappointment of the evening was a remix of Don't You Want Me (Baby), mostly because it was played twice in less then 2 hours (yeah, it would have been ok if it was Gloria)! Regardless, I was on the floor for a solid hour!
I concluded my night early, about 1:15am as I had a long drive in bad weather (Mom's home is about 35 minutes away). And I didn't want to be on the road when every other bar patron was heading home too.
The party goes until 2am, but it is my understanding the music goes later (without drinks) on Saturday's.