My Life

Just Chris
Rollercoaster Ride
Photo Galleries
My Dad (1927-2002)
My Cat Drakkar (1988-2001)
For Brent
My World
DJ / VJ Music & Video
Logan Lipton Fan Club
The Book I Wrote
History
Asbury Park NJ
St. Paul & Minneapolis MN
Cape May NJ
Vintage Postcards & Magazines
Entertainment
Studio 54
GLBT Nightclubs
Walt Disney World
Lucille Ball
Movies

Everything Else
Affordable Web Design
YesterYear Memories
Links



MARY TYLER MOORE
The Entire First Season on DVD
Portland Oregon
During my 2004 summer of exploration, my travels took me to Portland Oregon, for the first time in my life. The only other points west of Minnesota I had ever been were San Francisco in 1994, Salt Lake City around 1993 and Las Vegas while still in college back in 1987 or 88. I was visiting my friends, and Innkeepers of the MacMaster House Bed and Breakfast in SW Portland - it was the perfect location for exploring all of Portland's Downtown, including a selection of gay bars and clubs.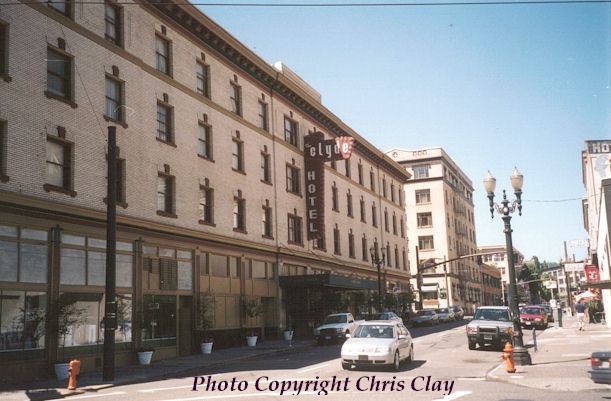 SW Stark Street, Looking Westerly, August 2004
Portland gay nightlife is centered in 2 distinct areas - on SW Stark Street just south of Burnside Avenue, near Broadway, right in the heart of downtown. The second area is long established in the NW metro area, near NW 2nd and 3rd Avenues. You can safely walk to all locations, but stay alert and be careful on and near Burnside Avenue where it crosses NW 2nd Avenue up to about NW Broadway (7th Ave). If you have never been to a city, I would suggest using a car to move from one area to another, or use common "city-sense". I walked most of the city almost every night of my visit and did not encounter any problems.

My biggest complaint for almost every bar (Boxxes, CC Slaughters, Silverado) was the hard core porn playing on monitors and TV's throughout the bars. Portland gay nightlife is friendly, and low-key. But my visit was not enough time to explore more of the culture and community. Portland has a large gay population, an annual Gay Pride Event, and the city is very open-minded. With a wide variety of restaurants and coffee shops catering to the GLBT community throughout the city and outlying areas, there was no gay Mecca, such as one might find in San Francisco (the Castro), Ft. Lauderdale (Wilton Manors) or Chicago. In some ways this was very nice.
So here you will find my experiences, based on one or two visits during August 2004.
Club / Bar: Boxxe's / Red Cap Garage, 1035 SW Stark
| | | |
| --- | --- | --- |
| Music: Pending New Review! | Light Show: Pending New Review! | Atmosphere: Pending New Review! |
| Location: City | Parking: City | Reviewed: August, 2004 |
| Confirmed: August 2004 & April 2007 | Visit Web Site | |
This interesting spot is technically 2 bars in one, connected via a long hallway. Boxxe's is primarily a video bar with several TV screens and 1 large screen. A smaller space, maybe accommodating 50 or 60 people if full. An adjacent room offers a small dance floor, but no one was in it during my visit on a Wednesday night. The crowd looked friendly, but there wasn't anywhere to really sit and converse with people. The entrance is just off Stark, and was usually identified by a temporary sign on the sidewalk. The door is marked Boxxe's. The video selections were ok.
On Stark street itself, you'll find an entrance to the Red Cap Garage. The Brigg, listed on many web directories no longer exists, and I believe it occupied the spot now inhabited by the Red Cap Garage. This bar features a dance floor, small to medium size. A DJ was featured, but by 11pm, this area of the complex was basically empty.
A few doors down, Panorama, a specialty nightspot. During my visit, posters were displayed for a special weekend party. I believe this, as well as many bars and clubs in Portland, also attract a straight crowd. Based on what I read and saw, many hot gay clubs become popular hangouts for straight club goers as well.
Club / Bar: CC Slaughters, 200 NW 3rd Avenue ("Old Town" Portland)
| | | |
| --- | --- | --- |
| Music: 4 Stars | Light Show: 3 Stars | Atmosphere: 4 Stars |
| Location: City | Parking: City | Reviewed: August, 2004 |
| Confirmed: August 2004 | Visit Web Site | |
This club claims to be the best and gayest of them all. My Friday night visit confirmed it does appear to be one of the most popular. An ample dance floor was busy, and the DJ featured popular dance music, and a good light show. My biggest turn off was several video screens featuring hard core porn, so much for bringing friends who may or may not be gay. This may be intentionally for that very reason. Like Boxxes/Red Cap, a hallway leads to a quiet bar and restaurant. I didn't venture in, but it looked very classy. Drink prices were most reasonable. The club was featuring AMBER a week after my visit for their annual block party. Definitely worth a visit.
Club / Bar: Embers Avenue, 110 NW Broadway (Just North of Burnside Avenue)
| | | |
| --- | --- | --- |
| Music: See Notes | Light Show: 4 Stars | Atmosphere: 3 Stars |
| Location: City | Parking: City | Reviewed: August, 2004 |
| Confirmed: August 2004 | Visit Web Site | |
From my gathering, this was once the premiere place, but the years have taken it's toll. Unfortunately I didn't discover it until nearly my last night, a Sunday. I ventured in anyhow and found a fun, albeit small crowd, enjoying an evening of Karaoke - and they were GOOD! I sat back and enjoyed several performances, than eventually explored the back room - or dance area. A large (probably the largest of the places I visited) dance floor, with the best light show, using many intelligent lighting effects. I don't know what the DJ spins on other nights, but on Sunday, it was clearly Latin, mostly in Spanish - and the gathering crowd was mostly Latin, and appeared to be mostly straight. No one seemed to care. The staff and folks singing up front were certainly gay, and based on the numerous Rainbow flags hanging outside, this was indeed intended to be a GAY bar! The clubs web site found on most Internet directories is not up and running, a real shame. If time allows, try visiting on a Friday or Saturday. There was nothing in the bar/club to identify themes or specials or events.
Club / Bar: Scandal's, 1038 SW Stark, Next to Clyde Hotel
| | | |
| --- | --- | --- |
| Music: See Notes | Light Show: N/A | Atmosphere: 4 Stars |
| Location: City | Parking: City | Reviewed: August, 2004 |
| Confirmed: August 2004 | No Web Site Known | |
Deemed to be the oldest established gay bar in Portland, having opened in 1979, this was also the most upscale and nicest of them all. There is no DJ or dance floor, just a nice neighborhood bar with music videos on a few video screens.
Club / Bar: The Silverado, 1217 SW Stark Street
| | | |
| --- | --- | --- |
| Music: 4 Stars | Light Show: 3.5 Stars | Atmosphere: 3 Stars |
| Location: City | Parking: City | Reviewed: August, 2004 |
| Confirmed: August 2004 | Visit Web Site | |
Oddly enough, this is apparently the place where everybody goes - and I found myself there on 2 or 3 occasions myself. From young male dancers, dressed in very little, and often exposing what is covered, to a small dance floor, even a bar menu, and of course, porn on the video monitors, the Silverado does seem to have it all. It's not classy, and I wouldn't bring a first date or mixed crowd here. But it's not a dump either, by no means. It just is. The bartenders are very friendly, smile a lot, and can engage in decent conversation (the norm at most places actually). You too will have to check it during a visit, before or after you stop into Scandal's across the street and down a block.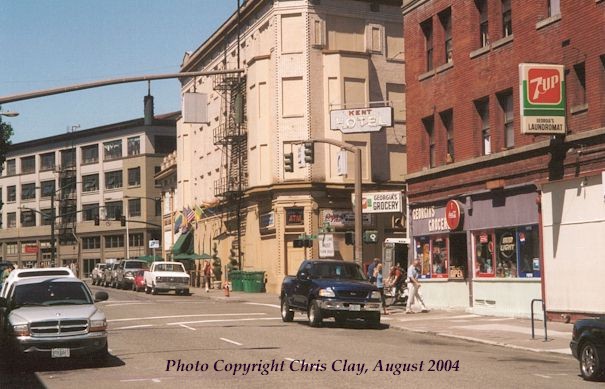 SW Stark Street, Looking West Towards Burnside
The Silverado Bar is on the right (look carefully for the Rainbow flags)
OK, now there are the places I researched and walked by, but did not go in. All of them are operating as of August 2004:
Club Portland - 303 SW 12th Avenue (Near Stark Street) - NOT a club, as in for dancing. Check out their web site and find out for yourself about the services which include GANG Showers, a Gloryhole Maze, a bootcamp, and FREE condoms and WIFI! Not my kind of place, maybe yours.
The Eagle - Leather/Levi/Porn
Klub Z - 333 SW Stark - You try and find it. It's a NO alcohol all ages club. I walked by and it's there.
Hobo's - 120 NW 3rd Avenue - Noted as a classy piano bar catering to business people and the after work crowd. It's near CC Slaughters, though I didn't go there, it looked nice, and someone said it is a nice quiet bar.
Three Sisters Tavern - NO, not a lesbian bar. The bar features nude male dancers and supposedly serves beer and wine. I didn't have the courage for this place, but it's there in the middle of all the action on SW Stark Street.