Walt Disney World '99
Millenium Celebration Trip & Review!
Note: The Disney Pages were created following my 1999 visit. People in my life have changed, so keep that in mind as you visit.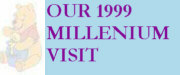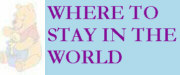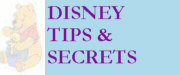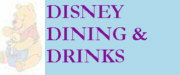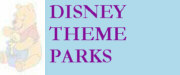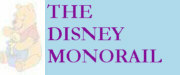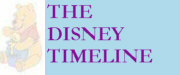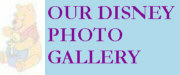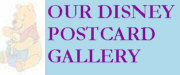 Welcome & Overview
Note: These pages were originally created in late 1999/early 2000. As such, information is accurate to that time period. Greetings! Welcome to the Walt Disney World pages. Here you'll find all the exciting details of our vacation, PLUS reviews and special "Disney Tips & Secrets"! And of course, our special MONORAIL section! We visited during Walt Disney World's Millenium Celebration. We arrived Saturday, October 23, 1999 and departed a week later on Saturday, October 30, 1999. There were 4 adults in our party, my sister Lisa, her partner Henry, Brent and myself (Chris, the writer).
History of Our Visits
Brent last visited in 1993 (before Animal Kingdom). He also visited in the early 80's when he was very young. Lisa last visited in 1990. Lisa and I both visited on family vacations in 1984, 1978 & 1973. My last visit was in 1984. Henry had NEVER been to Disney World! None of us have ever been to Disneyland in California, the original Walt Disney Theme Park.
OUR 1999 MILLENIUM VISIT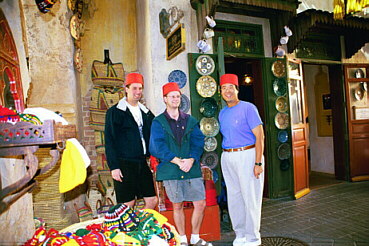 Day One (Saturday, October 23)
Airport Arrival…
We all arrived at Orlando International Airport on Saturday October 23, 1999. Brent and I arrived via Northwest Airlines from Minnesota around 11:30am; Lisa and Henry arrived by Continental Airlines from Newark, NJ around 11am. We met in the airport where we purchased round-trip tickets on the Mears Shuttle Service (the ONLY suggested service to Disney, though any cab or taxi will get you there)! Mears is BIG business in Orlando, and as our driver told us, a taxi service by another name is ALSO operated by Mears! Interesting because Mears was using these "competitor" taxi's to get folks to the Orlando and Disney hotels as there were far more people then there were shuttle vans! We waited about 30 minutes for our shuttle which turned out to be a private limousine service (also owned by Mears)! It was almost 1pm, but we were on our way to WALT DISNEY WORLD!
Hotel Arrival & Check-In…
For our accommodations, we chose the Polynesian Resort Hotel. Mainly because as youngsters, Lisa and I always stayed here with our parents. For more information on hotels, check out our "Where To Stay" section! As expected, our check-in was superb! We were greeted with smiles and ALOHA's from all the "Cast Members" at the Polynesian! Our Garden View Room was ready, but Henry & Lisa's Concierge Lagoon Room was not. We were early - about 90 minutes before check-in. We freshened up in our room and headed to the Kona Café (Check out "Dining & Drinks at Disney" for our complete restaurant review). The Café is located on the 2nd floor of the Great Ceremonial House. This is the main building at the Polynesian which houses the front desk, guest services, shops and restaurants.
Our First Night at Walt Disney World…
After a wonderful lunch, Lisa & Henry settled into their concierge room and we were off to the Magic Kingdom! Our first stop, the "Pirates of the Caribbean". Followed by the ever-popular "Haunted Mansion". We headed across the park to Fantasyland where we rode the "Teacups". All three of these rides are Disney classics and we recommend them all! Then we checked out the new "XS" in Tomorrowland. Scary! We don't recommend this one for the little ones. Enough riding, we needed food. Food options were scarce and lines were unbearable (at least in Tomorrowland). We found a food court and dined on below average burgers and fries with above average prices and poor service. Nothing to write home about. Afterwards, we enjoyed the fireworks display above Cinderella's castle. Though from where we watched, they were over the park. With full stomach's, we opted for the "Hall of Presidents" attraction - now with Bill Clinton! Nearing 10pm, we stayed to watch the 2nd "Main Street Electrical Parade". Yet another Disney classic, the parade is a spectacle of lights and music - a must for all ages! And who can forget the great theme song?
After the parade, we started heading for the gates, but not before stopping at the shops on Main Street USA. Busy!!! If this is the off-season, we would hate to see the prime season! TIP! Fortunately, as "Deluxe Resort" guests, we quickly boarded the not so busy monorail back to our hotel. Folks staying at other resorts not on the monorail waited in long lines for a monorail back to the TTC. At which point they would have to wait again - for buses to their resort.
Day Two (Sunday, October 24)
A Visit to Epcot…
We decided to spend our 2nd day at Epcot! On our walk to the TTC, Lisa & Henry took us on a special path along the new walkway. By the way, the new walkway will eventually circle the entire 3 1/2 miles around Seven Seas Lagoon connecting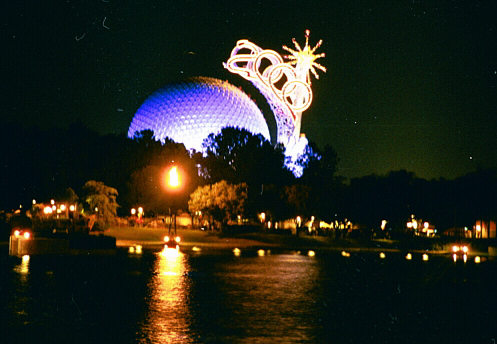 the Polynesian, Grand Floridian, Magic Kingdom, Contemporary Hotel & TTC. Additionally, previous guests can purchase commemorative stones to be placed on the walkway. Lisa & Henry purchased one for Brent and I to celebrate our commitment day. Our stone is located near the entrance to the ticket booths at the TTC - quite the special surprise! After a few photographs at our stone, we boarded the monorail and arrived mid morning at Epcot.
Our first stop, the Pin Station at Epcot! At first, only Lisa was eager to collect these special pins. They retail at WDW for $6.00 each. Many "out-of-print" pins are now selling online for 2, 3, even 4 times their original value! The rest of us would soon get caught up in this crazy new gimmick.
Our first attraction at Epcot, "Honey, I Shrunk The Audience" in Imagination (presented by Kodak - the only film you can buy at Disney) at Future World. This fun attraction features 3-D glasses and special effects that make it feel like mice are running around all over the theatre! Definitely one of the best interactive attractions at Disney, fun for adults and children. We moved on the World Showcase where we sampled Food & Wine at the 4th Annual Culinary Showcase at Epcot. We also visited exhibits at France, Morocco, Japan & China.
For an early evening dinner, we dined at the Garden Grill Restaurant with Mickey, Chip & Dale! Then we rode "Living With The Land", a ride for all ages emphasizing the importance of human interaction with the earth. More important then just taking the ride is speaking with your children about the message this attraction is trying to send. Afterwards, we took the "Journey Into the Imagination" ride in the Imagination Area. Skip this one. If you do go on this ride, they fail to warn you about the INTENSE strobe lights at the end of the ride - you'll be blinded for several moments afterwards. The one highlight of this ride is in the hands-on area that follows it, you'll find camera's that take your picture, then with a computer, place your face on an animal or as a cartoon figure. Not only is it FREE, but you can email your artwork to yourself, friends and family! Be sure to check this out after the ride.
It was nearing dark by now, soon time for Illuminations over Epcot. This is spectacular daily display of fireworks, lasers, lights and music. It begins at 9pm, but you'll need to be positioned in a good viewing location an hour before it begins. Otherwise, you'll miss much of the presentation that appears on the World Showcase Lagoon.
After the show, hundreds of thousands of people rushed for the gates - we went the opposite way! We strolled about World Showcase, browsed the shops and headed back to the gate after the crowds had departed. A quick monorail ride back to the hotel and we were ready to relax before bedtime.
Day Three (Monday, October 25)
Disney / MGM Studios…
Our third day was soon upon us. What a splendid way to start Monday - at a Character Breakfast with Minnie, Goofy and Chip & Dale. Check out our "Disney Dining & Drinks" for all our meal details!
After a leisurely breakfast, we boarded the BUS to Disney/MGM Studios Theme Park. Sorry folks, no way to take a monorail to MGM or Animal Kingdom. About 20 minutes later, we arrived! We covered most attractions and rides in one day, about 6 hours. We started with "Sounds Dangerous", a new attraction that features Drew Carey as your on-screen host. The show requires headphones (provided of course) and is set mostly in a dark theatre. Check it out, especially if you enjoy Drew. Then we checked out "Star Tours" - the best simulator ride I have ever been on. We all agreed it was a lot of fun. Great for fans of Star Wars! Then it was on to "Muppets 3-D", a cute attraction aimed at children. The effects were no where near the quality or excitement of "Honey, I Shrunk The Audience". We followed with the "Backlot Tour". Full of behind the scenes tricks, it actually takes you behind the scenes! Then we moved on to "The Great Movie Ride" - a must for any fan of the movies! The Wizard of Oz section is wonderful! The animation here is fabulous.
After an afternoon of non-thrill rides, it was time to check out "The Twilight Zone - Tower of Terror" and Aerosmith's "Rock & Roller Coaster". Both are worth the thrill! The "Tower of Terror" is very unique and a lot of fun - scary too! We understand it only use to drop only once, now it raises you up and down multiple times! It is the MGM Studios version of the Haunted Mansion at the Magic Kingdom - only much scarier! The roller coaster is FAST - taking you from 0 to 60 Miles Per Hour in just 2.8 seconds! Not only that, like Space Mountain, it is completely indoors, mostly in the dark! We found all the attractions at Disney MGM Studios, with the exception of Muppets 3-D well worth the time.
With thrill riding behind us, it was time for shopping and dinner. We chose the 50's Prime Time Café and enjoyed a wonderful meal.
Disney Boardwalk and The Bus "Horror" Ride…
In departing Disney MGM Studios, we hopped a boat ride to the Disney Boardwalk. Our other option was to take a bus directly back to the hotel. The boat stops at the Swan & Dolphin Hotels, both located on Disney land, but not operated by Disney. Then it proceeds to the Disney Boardwalk. We disembarked and strolled the latest addition to Disney. Although a pleasant experience, aside from more stores and a few specialty kiosks, the boardwalk was pretty quiet - except for the many bars dotted along the bar. They did not look very busy. It was just pass 10pm, so we thought we would find a bus back to the hotel…and our first "Disney Nightmare" began. We waited about 15 minutes for a bus. When the first one arrived, I asked the driver which bus we needed to get back to the Polynesian Hotel. Surprise! We would have to take a bus to Downtown Disney, then transfer to another bus. At the Disney Boardwalk Hotel bus station, there were NO guides or staff to answer questions. About 15 minutes later, a bus to Downtown Disney arrived. We boarded the standing-room only full bus and rode about 15 minutes to Downtown. Here we disembarked and waited at Station 3 for our bus to the Magic Kingdom Resort Hotels. About 15 minutes later, our bus arrived. We boarded and the bus was quickly at standing room only capacity. Remember, this is the off-season. We made 2 more stops at Downtown Disney before heading to the hotels. At our last stop before leaving Downtown Disney, the bus driver said "Downtown Disney West", I actually spoke loudly and said "Take us Home", I was followed by cheers from other bus weary travelers. The driver proceeded to our hotels, a 30 minute journey in total.
Wondering just how long we were waiting for and riding on busses? It took us about 90 minutes to get from the Disney Boardwalk to our hotel, the Polynesian. In not providing monorail service to the new theme parks, or at least decent bus service, Disney has clearly failed it's guest. This was by no means a magical experience. I can assure you Walt Disney would not have approved of our situation. Mr. Eisner certainly has room for improvement here. Enough said, we were back at our hotel after a long day.
Day Four (Tuesday, October 26)
Another Visit to the Magic Kingdom…
Having had enough harrowing bus rides, we opted for another day at the famous Magic Kingdom. As expected, we were not disappointed. We started our visit with a ride on the Carousel of Progress in Tomorrowland. It's not really a ride, it's a theater that revolves around 4 different stage displays depicting life from the early 1900's, the 1920's, the late 1940's and finally the present. This was one of Walt Disney's favorite attractions that he premiered at a World's Fair long before Walt Disney World was built. It is a classic MUST SEE! Still in Tomorrowland, we headed towards the new "Timekeeper", a 360 degree theater that takes guests on a travel in time (sort of). The best part of this attraction is that the mechanical robot designed to entertain us during our journey features the voice, and the humor of Robin Williams. Afterwards, it was time for another thrill ride - Space Mountain! Slow in comparison to the "Rock & Roller Coaster", this is still a fun ride on a roller coaster in the dark, less the high speed and big drops of your typical roller coaster. We headed across to Frontierland where we planned to ride the runaway Mountain Train roller coaster, but as we arrived, it was being closed for repairs. So we opted for the slower Disney Railroad which circles the entire Magic Kingdom. A great way to escape the crowds and long lines.
Some shopping, parade watching and another visit to a pin station. As we left the Magic Kingdom, we took the monorail to the Contemporary Hotel. Here we took the elevators to the top floor and enjoyed the magnificent views of the Magic Kingdom, Grand Floridian and Polynesian Hotel. TIP! Non-resort guests can also take the resort guest monorail and check out the hotels. We returned to our hotel and relaxed before heading to Luau Cove for the Polynesian Luau Dinner Show.
Day Five (Wednesday, October 27)
Another Day at Epcot…
Our second day at Epcot begins with a trip through "Spaceship Earth" (commonly thought of as the Epcot Ball). The ride is ok, it's now sponsored by AT&T. What surprised us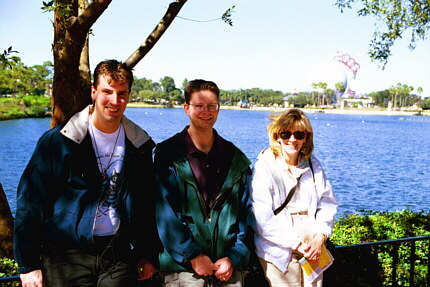 most is on completion of the ride, we exited in a construction area! Walt would have disapproved of this too. Afterwards, we walked over to the Universe of Energy, presented by Exxon. Here we enjoyed "Ellen's Energy Adventure" where Ellen DeGeneres and Bill Nye The Science Guy take us back in time to the dinosaur era. A great attraction for adults and children. Like "Living with the Land", the importance of this attraction is that we also learn something from it! Having covered most of the attractions in Future World, we returned to the World Showcase. Here, we went to Mexico, Norway and Germany. In Mexico, we took a boat ride. You can skip this "sales presentation". Our highlight in Mexico was a photo opportunity with Donald Duck! On to Norway for another boat ride and short film. Both were very enjoyable and recommended. We were going to try the bakery treats, but no one waited on us. It was quite common on our vacation to encounter "service issues" in the low-budget food operations. This was not the first. A trek through Germany, a funnel cake, and it was time for Lisa & Henry to return to the hotel so they could prepare for their visit to Cirque de Soleil. Brent and I continued to the Millenium Village, a unique collection of countries not found elsewhere in World Showcase. I'm not sure if this is a permanent addition to Epcot or not. The structure is not permanent. In the village, there is much to read and learn about celebrating cultural diversity. Unfortunately, most folks were too busy hurrying along to the next ride or attraction. How many people actually learned anything at this attraction?
Lisa and Henry enjoyed their show while Brent & I enjoyed another wonderful meal at the Kona Café. We then strolled along the beach for a walk to the Grand Floridian.
Day Six (Thursday, October 28)
A Visit To Animal Kingdom…
Our trip is moving quickly along and we have but one more theme park to visit - Disney's newest Animal Kingdom, which opened in 1998. This was a new experience for all of us and it is clear Disney did a fine job creating and building this park. We only rode two attractions, spending most of our time enjoyed the wildlife in the park. Our first ride was "Countdown To Extinction", a fun-filled unique ride that takes us back to the age of dinosaurs. We then found the hidden McDonalds, grab a quick snack and headed to the "Safari Ride". We are guided through the safari on actual trucks. Both of these are must see attractions.
Afterwards, we explored the beautiful wildlife grounds and "The Tree of Life", the centerpiece of Animal Kingdom.
Escape from Disney to Emeril's Restaurant…
This would be my last attraction on our vacation. After an over-priced meal, we walked around Universal Studios City Walk, desiring a quick return to our vacation world at "Disney". Upon our return to the hotel, we enjoyed a close-up view of the Seven Seas Lagoon Electrical Water Parade right on the beaches of the Polynesian. Afterwards, we enjoyed an encore view of the fireworks over Cinderella's castle, easily visible from our hotel beachfront. Lisa, Henry and I decided to take a ride on the monorail! This time, we got the front car with the driver! We took the monorail on a full 360 degree journey.
Day 7 (Friday, October 29)
Our Last Full Day at Disney…
After enjoyed Emeril's signature Banana Cream Pie, I awoke extremely ill. I would spend all day in bed recovering. Our plans for our final day were to enjoy the pool, take a stroll and actually relax! Brent, Lisa & Henry headed to Disney MGM where we had reservations at the Hollywood Brown Derby. They went on to see Fantasmic. They said is was very good though not spectacular. If it was spectacular, they didn't tell me. Maybe they were just being nice to me since I couldn't go with them.
Day 8 (Saturday, October 30)
Time To Go Home…
The most depressing part of any vacation - it eventually ends. Lisa and Henry enjoyed a few extra hours at the Magic Kingdom as their flight did not leave until 7:30pm! Ours departed at 4:30pm. And so, another week of magic has come to an end!
Please Visit
"YESTERYEAR MEMORIES"
My online store featuring
TIME MAGAZINES & POSTCARDS
Of The 1900's - Including Disney Postcards!

Link About Walt & Roy:
http://www.sptimes.com/Perspective/72698/Chairman_Roy.html
Last Updated, August 2002 - July 2014
© Christopher Clay
Counter Added June 5, 2000


Free counters provided by Honesty.com.