History - 1970 to 2000
(The Post Stonewall Years)
A Timeline of Events in Gay & Lesbian History
Select A Period In Time
1970 ... 1971 ... 1972 ... 1973 ... 1974
1975 ... 1976 ... 1977 ... 1978 ... 1979
1980 ... 1981 ... 1982 ... 1983 ... 1984
1985 ... 1986 ... 1987 ... 1988 ... 1989
1990-1994 ... 1995-1999 ... 2000


The film version of Mart Crowley's popular Broadway play "The Boys in the Band" premieres. The film is one of the earliest to deal with homosexuality as the main topic.
June 28, 1970
Between 2,000 and 10,000* people march from New York City's Greenwich Village to Manhattan in the first "unofficial" Gay March!
*Depends on which report you read.

At the University of Texas Austin, over 200 people attend Austin's First Annual National Gay Conference. The event was organized by the Gay Liberation Front.
October 25, 1971
The Magic Kingdom at Walt Disney World in Orlando, Florida opens. Less then 20 years later, executives of Walt Disney World would be under fire from Right-Wingers and Baptists for permitting special visitor days for
"Gays & Lesbians".
Click here for a complete timeline of events relating to Walt Disney.


1971
Colorado, Hawaii, Idaho & Oregon repeal sodomy laws.
Jack Baker, 29,an openly gay law student at the University of Minnesota is elected student body president. Baker and his lover, librarian James McConnell, also 29, unsuccessfully sue for a marriage license. They legalize their relationship when a judge allows McConnell to adopt Baker.
The Los Angeles Gay Community Services Center opens.
"The younger players are really tough to figure. I know two, maybe three guys on the team who have no interest whatsoever in girls. You've had guys like this on teams for a long time, but they're so open about it."
Joe DiMaggio, 1971

The US Supreme Court upheld the right to refuse employment on the grounds of homosexuality by refusing to review the case of a man who was refused a job by the University of Minnesota library because he was openly gay.
1972
Minnesota State Senator Allan Spear is elected. He "comes out" in 1974. Spear then serves 6 consecutive terms.
Democratic presidential candidate George McGovern endorses gay rights. He is denounced by party stalwarts.
"That Certain Summer" a television portrayal of homosexuality shows an American housewife (Hope Lange) losing her husband (Hal Holbrook) to a young artist (Martin Sheen).

1973
The American Psychiatric Association removes Homosexuality from it's list of Mental Disorders.
In Los Angeles, a suspicious fire destroys the gay-supportive Metropolitan Community Church.
Barney Frank tells his colleagues that he had routinely used gays as campaign workers. Frank will come out himself until 1988.
"Everyone is more or less bisexual. People just don't admit it. I haven't been involved with a woman for years, but one of the nicest experiences - whatever you want to call it - was with a woman."
Joan Baez

| | |
| --- | --- |
| | Sergeant Leonard Matlovich appears on the cover of TIME with the words "I am a Homosexual" across his chest. After a 5 year battle with the military, he accepts $160,000 and a promotion to the rank of Captain. He will later die of AIDS-related complications. |
| | |
Pro-football player David Kopay becomes the first major league athlete to come out as gay.
Pennsylvania Governor Milton Shapp signs an executive order banning antigay discrimination in state employment.

"I don't mean to brag, but I think if I spent some time with a gay boy, he'd never go back to men."
Mae West
"I just didn't wear any base."
Tina Louise (The 'Moviestar' on Gilligan's Island) on how she prepared to play a lesbian on TV
"It's all right for anybody to be who they are just as long as they don't let their dogs shit in the street."

Bette Midler, 1975


The Mayor of Anchorage Alaska George Sullivan, vetoes a gay rights bill, explaining that the people of Anchorage should not be forced to associate with sexual deviants.
April 1976
Pope Paul VI publicly denied that he was a homosexual.
The owner of a New Jersey dinner theater canceled "The Boys in the Band" after he learned it was about homosexuality.
1976
Presidential candidate Jimmy Carter announced
that if he were elected he would issue executive
orders banning discrimination against gays and
lesbians in the military, housing, employment, and immigration.
The first Womyn's Music Festival is held in Michigan.
"True fulfillment as a human being comes when each of us is able to recognize the masculine and feminine within ourselves... That's one of the enormous contributions the strong gay movement can make."
Jane Fonda

Just 8 years after the Stonewall Riots, Studio 54 Opens in New York City. The nightclub would become famous as the place to go for celebrities, drugs, gays, straights and everything in between.
Visit the Studio 54 TimeLine Site
April 9, 1977
"Dancing Queen" by ABBA hits #1 on the pop singles chart.
1977
Camera shop owner Harvey Milk is elected to the San Francisco Board of Supervisors.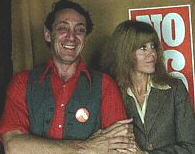 Gospel singing Florida orange juice queen Anita Bryant forms "Save Our Children Inc." against the gay movement. Bryant, intending to take her campaign national retreats after she encounters gay protesters at every stop and a "pie in the face" in Des Moines, Iowa.
The Liberace Museum opens in Las Vegas.
Actual text from an ad by Anita Bryant that appeared in the March 20, 1977 edition of the Miami Herald:
"Homosexuality is nothing new. Cultures throughout history have dealt with homosexuals almost universally with disdain, abhorrence, disgust-even death. The recruitment of our children is absolutely necessary for the survival and growth of homosexuality. Since homosexuals cannot reproduce, they must recruit, must freshen their ranks. And who better qualifies as a likely recruit than a teenage boy or girl who is surging with sexual awareness."

"People only remember the evil. What do they write about in the newspapers? The good marriages? No, only the terrible ones...People love 'evil', and they remember evil more."
Bette Davis, Interview with The Advocate

"...I am going to play the (San Francisco) Opera House! It's going to be a fabulous show with a full orchestra, lots of costumes, lots of everything. Lots! And whenever you think you have too much, you should put on more, just to be safe."
Disco Diva James Sylvester Hurd, Age 29, 1977

Harvey Milk is assassinated by former San Francisco City Supervisor Dan White, who also kills Mayor George Moscone.
For additional resources:
The Mayor of Castro Street: The Life and Times of Harvey Milk (Stonewall Inn Editions)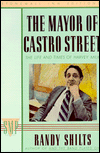 Related to Anita Bryant's campaign, gay rights ordinances are repealed in St. Paul, MN, Eugene, OR and Wichita, KS.
Voters in California reject the Briggs initiative which would have banned gay teachers from the classroom. The initiative was denounced by Governor Ronald Reagan.

The New York Times runs a front page story showing six men being executed by firing squad in Iran for homosexuality.
May 21, 1979
The "White Night" Riots at City Hall, San Francisco follow the verdict of Harvey Milk killer Dan White's 5 to 8 year manslaughter sentence. The 5,000 person march turns violent as police vehicles are overturned and set on fire. Later in the evening, police retaliate in the Castro neighborhood, arresting and beating gay men.

On VHS (now out of print) from KQED, "The Castro" examines the fascinating history behind this neighborhood and community.
May 22, 1979
4,000 people gather for a peaceful celebration of Harvey Milk's 49th birthday.
1979
The FIRST March on Washington DC. It is ignored by mainstream media.
President Jimmy Carter appoints lesbian Jill Schropp to the National Advisory Council on Women.
"It's appalling that there have to be movements organized to give human beings the right to be human beings in the eyes of other human beings."
Glenda Jackson, 1979

"Gay rights are part of human rights...(but) cruising, sex in public parks, S/M, drag balls, and cross-dressing have nothing to do with gay politics. Such things turn me off as well as they turn others off."
Henry Fonda

The Twin Cities Gay Men's Chorus holds its first concert.

October 16, 1981
"Torch Song Trilogy" premieres on Broadway in New York City.
"Everytime a heterosexual actor puts on a dress, they give him a f**king Academy Award. I don't understand it. We spend our lives playing heterosexuals and nobody gives us credit for the incredible job we've done."
Harvey Fierstein
(Year of quote unknown)
December 21, 1981
| | |
| --- | --- |
| | The New York City Gay Men's Chorus becomes the first openly gay musical group to play Carnegie Hall. |
| | |
1981
Ronald Reagan is sworn in as President.
An August issue of "The Advocate" suggests a 'gay cancer' may be beginning. 36 gay men have been diagnosed with Karposi's sarcoma. The article reports that butyl nitrite (poppers) as the most likely culprit of the disease.
The Department of Defense adopts a new ban on gays and lesbians, eliminating loopholes that allowed some to stay in the military.
Timothy Curran, 19, of Florida files a lawsuit against the Boy Scouts of America for ousting him because of his homosexuality.
Billie Jean King admits she had a lesbian relationship, but calls it a mistake.
10,000 gather in Paris, the largest gay demonstartion in Europe, to protest the World Health Organization's classification of homosexuality as an illness.
The Gay Men's Chorus of Washington D.C. is founded.

Legislator David Clarenbach of Wisconsin author's an antigay discrimination bill. It is passed making Wisconsin the first state to enact such a law.

Nearly 800 people are infected with GRID (Gay-Related Immunodeficiency). The name is changed to AIDS by years end.

The first international Gay Games in San Francisco is held. About 1,300 people participate.


"Making Love" (with Kate Jackson) is the first major studio release of a gay-themed film.


People with AIDS gather at the 5th National Lesbian/Gay Health Conference.
Representative Gary Studds, of Massachusetts is censured by Congress for his sexual relationship with a 17-year old page. Studds admits he is gay and wins reelection for the next 4 terms.

Sharon Kowalski, a Minnesota lesbian is paralyzed when her car is struck by a drunk driver. The guardianship battle between Kowalski's parents and her lover Karen Thompson mobilizes the community. 8 years later in 1991, Thompson wins custody.
More Information: The Sharon Kowalski Case: Lesbian and Gay Rights on Trial
MAP (Minnesota AIDS Project) is founded by a small group of dedicated volunteers.

American researchers announce the discovery of HTLV-3 shortly after French scientists claim that AIDS is caused by LAV. The viruses turn out to be the same, later called HIV.

Over 100,000 march in San Francisco on the eve of the Democratic convention. All candidates, except John Glenn, support gay rights. Ronald Reagan is reelected.

"The Times of Harvey Milk" wins the Academy Award for Best Feature Length Documentary.
"As Is" opened at New York's Circle Repertory Theatre. It would be nominated for 3 Tony Awards.
April 1, 1985
The Harvey Milk School for gay and lesbian teenagers holds its first classes in a New York City Greenwich Village Church.
1985
President Ronald Reagan says the word "AIDS" for the first time publicly. More then 2,000 people attend the first international conference on AIDS in Atlanta.
Dan White, free from prison for one year, commits suicide.
Actor Rock Hudson dies of AIDS-related complications. Four years later, a jury awards one of his ex-lovers almost $22 million. The award is later reduced.

"I don't think homosexuality is a choice...The choice is whether one expresses one's nature truthfully or spends the rest of one's life lying about it."
Marlo Thomas
"Your pissing and moaning about the shallowness of 'other' faggots falls on unsympathetic ears when you're wearing a t-shirt that says 'This face seats five'."

Armistead Maupin, 1985


William Hurt wins the Best Actor Oscar for his (gay) role in "Kiss of the Spider Woman".
1986
The Justice Department says in a policy statement that fear of contagion may be an acceptable reason for AIDS-based employment bias.
The Supreme Court relies on the Bible to uphold the right of states to outlaw consensual gay sex in private.
California voters reject an initiative to quarantine people with AIDS by a margin of 71% to 29%.
The Vatican issues a letter that banishes Dignity, a gay catholic group from church property.
"I love Christmas carols; but then, who doesn't? The local boys' choir gave me a particular thrill one year."

Liberace as quoted from "Wonderful Private World of Liberace", 1986


Liberace passed away of AIDS-related complications at age 67 in Palm Springs.

October 11, 1987

The SECOND March on Washington DC.
Between 200,000 (per the park service) and 650,000 Gays & Lesbians march.

The First Display of the

NAMES Project AIDS Memorial Quilt in Washington DC included 1,920 panels.

1987
ACT-UP (The AIDS Coalition to Unleash Power) forms in New York.
President Reagan appoints a national AIDS commission that includes one gay man and several homophobes. Surprisingly, the group makes intelligent recommendations that the Administration ignores.
The FDA approves AZT, the first AIDS antiviral. The drug carries a high price and severe side effects.
Rep. Barney Frank comes out.
"I think we should be tying up whole cities. We should cripple this country. We should throw bombs. We should set fires. We should stop traffic. We should surround the White House."
Activist & Playwright Larry Kramer, responding to the AIDS crisis, 1987

In Washington DC, Georgetown University losses an eight year legal battle to avoid providing facilities and financial support to gay organizations on campus.
March 7, 1988
"Divine" (Harris Glenn Milstead) dies of a heart attack at age 42 . Divine starred in such films as "Polyester" and "Hairspray".
April 1988
Police arrested 18 people in an Easter Sunday protest outside St. Patrick's Cathedral in Manhattan. The protest was organized by the Cathedral Project, which began holding demonstrations after New York Cardinal John O'Connor evicted the gay Catholic group "Dignity New York" from the church where it was worshipping.
October 1988
The Second Display of the NAMES Project AIDS Memorial Quilt in Washington DC included 8,288 panels.
October 11, 1988
The First National "Coming Out Day"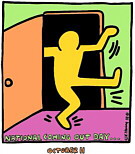 1988
Presidential nominee Michael Dukakis institutes an antigay foster-parenting policy in Massachusetts.
Republican George Bush is elected president.
AIDS activists culminate in a daylong takeover of the FDA building in Washington DC.
The Aurora Lesbian Center is founded in Duluth, Minnesota. Members would march in the 1993 Duluth St. Patrick's Day Parade.
A court of appeals upholds the conviction of an HIV-positive Minnesota prisoner who was found guilty of assault with a deadly weapon for biting two prison guards in a struggle.

The drug Prozac is introduced. Prozac quickly became a metaphor for society's obsession with quick fixes to problems. The pills not only helped the depressed, but became known for simply making people feel good.

"I've known gay and lesbian people all my life...Some of my most brilliant teachers and some of my classmates were gay. They were just part of the community of people."
Jesse Jackson, 1988

Robert Mapplethorpe dies of AIDS in Boston. He was 42.
1989
ACT-UP members disrupt Sunday mass at St. Patrick's Cathedral in New York City.
Denmark becomes the first country to recognize gay and lesbian partnerships.
The Third Display of the NAMES Project AIDS Memorial Quilt in Washington DC.

President Bush delivers his first address on AIDS. The speech is interrupted by National Gay and Lesbian Task Force director Urvashi Vaid who accuses Bush of a lack of action on AIDS.

In Ohio, Cincinnati law enforcement warned the Contemporary Arts Center not to allow a Robert Mapplethorpe exhibit to open. After it did, Director of the Center, Dennis Barrie, was indicted on obscenity charges.
Fashion designer Halston dies of AIDS at age 57.
June, 1990
Walt Disney World in Orlando Florida plays host to the first annual Gay & Lesbian Day.

July 1991
The first Pride Celebration is held in Harrisburg, Pennsylvania. The event is called the Unity Festival and is held at Ski Roundtop. In 1999, the event was moved to Harrisburg's RiverFront Park where over 3000 people attended.
Information courtesy Charlie Smith of PFCP (Pride Festival of Central PA).
1991
Hawaii and Connecticut outlaw antigay discrimination.
In the Soviet Union, thousands of gays and lesbians attend a conference and film festival.
"All of my sexual experiences when I was young were with girls. I mean, we didn't have those sleep-over parties for nothing."
Madonna
"It isn't that I hadn't considered it. I'd say, 'Well, would that be interesting? Would I want to?' And I honestly don't think that the thought ever resolved itself."

Julie Andrews, contemplating a potential lesbian relationship in an interview with The Advocate.
1991

October 9-11 1992
The Fourth Display of the NAMES Project AIDS Memorial Quilt in Washington DC.
October 30, 1992
"Divas For AIDS" featuring The Weather Girls and Thelma Houston is held at the Portland Memorial Coliseum in Oregon.
1992
New Jersey and Vermont enact bans on antigay discrimination.
The Americans with Disabilities Act goes into effect.
k.d. Lang comes out in "The Advocate".
A Newsweek poll finds that 45% of those asked considered gay rights "a threat to the American family and its values".
The Gay Men's Chorus of San Diego is founded.
"If I had to wear high heels and a dress, I would be a mental case."
k.d. Lang, 1992

April 25, 1993
The THIRD March on Washington DC
1993
"Don't Ask, Don't Tell" becomes U.S. Military Policy

March 1994
IKEA Furniture becomes the first company to air a television commercial in the US which featured a gay male couple.
May 1994
The 1st Annual Deaf Lesbian & Gay Awareness Week is held in the San Francisco Bay Area.

Inspired by Puccini's La Boheme, "Rent" the musical opens on Broadway. Winner of several Tony Awards, it was one of the first musicals to include a lesbian duet.
(Thanks to Ellee for this submission)

April 1996
Owner of Fox Incorporated, Rupert Murdoch, announced that the company would begin extending domestic partner benefits to gay and lesbian employees.
September 1996
Rumours in St. Paul, Minnesota holds the "Grumpier Old Men" Auction. The canvas seat backs of the directors' and stars' chairs were sold at auction to benefit Every Penny Counts, a fund for AIDS victims.
1996
The Fifth Display of the Names Project AIDS Memorial Quilt in Washington DC.

June 1997
The first Capitol City Pride is held at Mears Park in St. Paul, Minnesota. This marks the first year 2 separate Pride Celebrations are held in the Twin Cities.
October 12, 1998

Days after a brutal (hate crime) beating, 21 year old University of Wyoming student Matthew Shepard dies.


April 1999

McDonald's adds sexual orientation to its non-discrimination and anti-harassment policies.

June 11, 1999

President William Jefferson Clinton signs a proclamation declaring June as Gay & Lesbian Pride Month.
Click Here to read the proclamation.

December 1999

The Vermont Supreme Court rules that gay couples must be granted the same benefits and protections given married couples of the opposite sex.

Although medicine and treatment is helping persons with AIDS live longer, there is still NO cure...

Many people and organizations in the Twin Cities continue to serve the needs of people with AIDS. To find out about several of these groups, please visit the Community Connections page.

April 28, 29 & 30, 2000

The 4th March on Washington for Equality is held in Washington DC.

June 4, 2000

New Jersey's Ninth Annual Pride Parade & Festival is held in Asbury Park.

July 2002

"Minneapolis and St. Paul in Vintage Postcards" is released. The book includes references to historic sites that have become well-known for there modern day events - including the GLBT Pride Celebration in Loring Park, and the vigil that was held for Matthew Shepard.

Information compiled from a personal collection of books, newspaper clippings, magazine articles (including "The Advocate" and "Out") and various online resources including the PBS web site. Additional information provided by friends and local members of the Twin Cities GLBT Community. Every effort has been made to verify the accuracy of information.

If you have an item to submit (or a correction to suggest), please submit it via my Contact Form!