Time Magazines:
All Issues As Lot
1959 * 1960 * 1967 * 1969 1974 * 1981 * 1987
Life Magazines:
1958 to 1970
Postcards:
CALIFORNIA
CATS
CONNECTICUT
CHICAGO, ILLINOIS
DISNEYLAND
MARYLAND
MINNESOTA
MISSOURI
NEVADA
NEW JERSEY
NEW YORK
OHIO
PENNSYLVANIA
PROVIDENCE, RI
SOUTH DAKOTA
VERMONT
WALT DISNEY WORLD
HOTELS & MOTELS - STATES A to L
HOTELS & MOTELS - STATES M to Z
Music CD's, DVD's, Books:
Half.com
Amazon.com
Customer Comments:
"I just thought that I would let you know that the TIME magazine I ordered
from you arrived safely a couple of days ago. The condition of the magazine
is excellent - and just as you described. Thank you so much for prompt,
efficient and honest service."
"I received the Chicago 1933 postcard yesterday in perfect condition. You did a great job packaging it."
"We got the Time magazine. It's the best condition of all we've gotten. Thanks."
Time Issue - April 9, 1965 - The Peanuts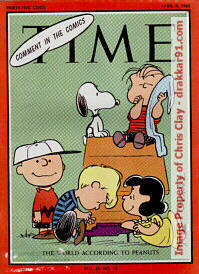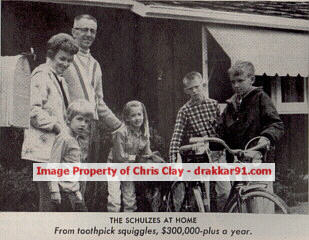 The price on this collectable issue is $500 - of which, 50% of the proceeds will be equally donated between the Scholarship Fund created in memory of my father, and other charities for children in the United States. You can almost certainly find it for less at auction sites on the web, or in local antique shops. The purpose of this sale price is to help benefit young people in our country.
For more details, please contact me. Thank you, Chris
Click here to return to the magazine listings.