Time Magazines:
All Issues As Lot
1959 * 1960 * 1967 * 1969 1974 * 1981 * 1987
Life Magazines:
1958 to 1970
Postcards:
CALIFORNIA
CATS
CONNECTICUT
CHICAGO, ILLINOIS
DISNEYLAND
MARYLAND
MINNESOTA
MISSOURI
NEVADA
NEW JERSEY
NEW YORK
OHIO
PENNSYLVANIA
PROVIDENCE, RI
SOUTH DAKOTA
VERMONT
WALT DISNEY WORLD
HOTELS & MOTELS - STATES A to L
HOTELS & MOTELS - STATES M to Z
Music CD's, DVD's, Books:
Half.com
Amazon.com
Customer Comments:
"I just thought that I would let you know that the TIME magazine I ordered
from you arrived safely a couple of days ago. The condition of the magazine
is excellent - and just as you described. Thank you so much for prompt,
efficient and honest service."
"I received the Chicago 1933 postcard yesterday in perfect condition. You did a great job packaging it."
"We got the Time magazine. It's the best condition of all we've gotten. Thanks."
MINNESOTA VINTAGE POSTCARDS FOR SALE
Note: Stock on this page is currently being inventoried. Only images with thumbnail photo's are guaranteed available at this time.
Please Note: All listings are subject to Prior Sale! If you see an item that interest you, please contact me as soon as possible!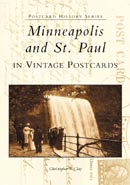 For Condition Guide, Purchasing and Order Guidelines, CLICK HERE Listings are alphabetical by city.

Listings with "Hyperlinks" in the description name will link you to another web site related to the particular listing!

When ordering, use the color-coded item number included in each card description!
Image
(Click to Enlarge)

Description

City

Postally Used?

Price

LL 74853B
First Presbyterian Church, Beautiful Exterior Summer View with Old Car (MN005)
Albert Lea
Chrome
No
EX
$3.00
EC

Fireplace of States, Interior View (MN017)
Bemidji
Natural
Yes
1965
G to VG

3.00

EC
Fireplace of States, Building Exterior (MN018)
Bemidji
Natural
No
VG

Not Avail

CT #8A- H2965

Legendary Paul Bunyan, Huge Figure of Steel and Concrete (MN079)
Bemidji
Linen
No
VG to EX
Not Avail
CT
Animated Paul Bunyan (MN019)
Brainerd
Linen
Yes
1952
EX

Not Avail

DXW 35313-B
Grand View Lodge, View of People and Boats on Beach and in Gull Lake (MN080)
Brainerd
Chrome
Yes
1960
VG
3.50
DXW 5283C
Pine Beach, Gull Lake, Aerial View, Very Nice (MN081)
Brainerd - Nisswa Area
Chrome
No
EX
Not Avail
DX
Civic Center, Nice Card Old Cars in Front 1930's or early 40's (MN021)
Duluth
Kodachrome
No
EX

Not Avail

Hotel Duluth, Exterior, 'Finest & Most Modern' Opened May 1925, Closed 1980 (MN012)
Duluth
White Bdr, 1940's
No
G to VG
3.50
CT 128-D
Superior Street, Looking East, Cars, Buildings, Nice View (MN023)
Duluth
Linen
Yes
1953
G
Not Avail
#22
Greetings From Emily, Lake Scene at Dusk with Boater, Photo-Type B&W (MN087)
Emily
Chrome
No
VG
Not Avail
4922
View on Lake Pepic, Hand Written Date Reads: 5/5-09 (Presume 1909) (MN094)
Lake City
Pre-Linen
No
G
Not Avail
RO 31224 Printed in Germany
Eagle Island, Lake Minnetonka (MN095)

Lake Minnetonka
Pre-Linen
Yes
1905
VG
Not Avail
RM
Sioux City Resort (MN036)
Max
Chrome
Yes
1963
VG
Not Avail
CT
Foshay Tower (MN039) Same Image of Card Used in My Book on Page 88
Minneapolis
Linen
Yes
1941
VG

Sold

Buy my book featuring 200 images of Minneapolis and St. Paul in Vintage Postcards!

Click the cover for more information, or click here to purchase it online.

Acme- graph Co., Chicago
Lake Calhoun Drive, Early 1900's, View of Drive, Lake, Boats, Car Same Image of Card Used in My Book on Page 104 (MN102)
Minneapolis
Pre-Linen
Yes
F to G
Sold
R
CO P4084
World's Largest Walleye, On Hwy 53 near Lake Kabetogama (MN108)
Ray
Chrome
No
VG to EX
Sold
CT
Hotel Zumbro - GONE! Demolished in 1987 (MN007)
Rochester
Linen
Yes
1949
G to VG

5.50

CT
New Clinic, Old Cars (MN001)
Rochester
Natural
Yes
1936
G

3.50

-
St. Paul Hotel Same Image of Card Used in My Book on Page 11 (MN076)
St. Paul
Pre-Linen
Yes
1911
F to G
6.00
112
Ryan Hotel, 6th & Minnesota Sts., Demolished in 1962 (MN013)
St. Paul
Early 1900's
Yes
1909
F to G
Not Avail
CT H1348
Public Library, Downtown On Rice Park Similar Image of Card Used in My Book on Page 72 (MN009)
St. Paul
Linen
Yes
1939
VG
4.00
AC 10335
Horticultural Building, MN State Fair, Exterior View, NICE! (MN014)
St. Paul
Natural
No
VG
Not Avail
DXW 92776-B
2-View Card features Bridge on Hwy 59 and Aerial View - Neat! (MN111)
Thief River Falls
Chrome
No
VG
Not Avail
Printed in Germany
Haddock's Point, Lake Shetek, Very Old, Early 1900's (MN112)
Tracy
Pre-Linen
Yes
Unknown
VG
Not Avail
For Condition Guide, Purchasing and Order Guidelines, CLICK HERE