My Life
Just Chris
Photo Galleries
My Dad (1927-2002)
My Cat Drakkar (1988-2001)
The Vermont Years
Chris' Vital Stats
"Wherever You Will Go"
My World
DJ / VJ Music & Video
Logan Lipton Fan Club
The Book I Wrote
Rants, Raves & Politics
Provincetown 2001
Great Real Estate Agents
History
Asbury Park NJ
St. Paul & Minneapolis MN
Cape May NJ
Vintage Postcards & Magazines
Entertainment
Studio 54
GLBT Nightclubs
Walt Disney World
Lucille Ball
Movie Guide

Everything Else
Affordable Web Design
YesterYear Memories
Links
Contact Chris



Like Asbury Park, Atlantic City had fallen on hard times. Resorts was the first casino to operate in Atlantic City, opening its doors to gamblers in 1978 (Source: The Associated Press). In the eyes of many, Atlantic City's woes were over. Actually, they had only just begun. The legalization of gambling brought hotels, jobs, money, and most importantly, people to Atlantic City's streets, boardwalks and beaches. In 1996, there were 13 casino-hotels in Atlantic City. The debate will rage on as to whether casino's saved the city or not. The rich get richer, and the poor stay poor, or as we see, can evicted from their homes in order to make way for "progress".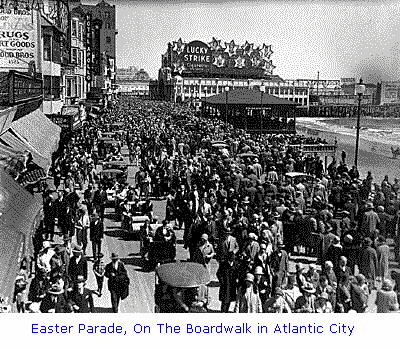 In the second half of the 1990's, the city agreed to demolish housing in order to build a "tunnel" from the oceanside hotels to the marina area hotels on the bay. This was done in order to secure a deal with Steve Wynn (another Donald Trump in the casino business). Trump calls the plan a private driveway to Wynn's new hotel and casino to be built on the bay.
In order to accomplish this plan (with most of the money coming from various government agencies in New Jersey), homes will be razed.
This link includes a memory from a former resident of Pitney Village:
http://iloveac.com/memory.shtml (See Entries #124 & 125)
NewsPaper Articles on Atlantic City - Proposed & Approved $330 Million Dollar Tunnel
Published in the Asbury Park Press 11/03/98
THE ASSOCIATED PRESS
ATLANTIC CITY -- Donald J. Trump has all but given up fighting it. The irate residents whose homes stood in its way have accepted buyouts. The only thingawaiting the boarded-up homes along Horace J. Bryant Jr. Drive now is the bulldozer.

After almost three years of planning, lawsuits and heated public debate, construction begins this week on a $330 million road and tunnel project that will link the Atlantic City Expressway with the city's marina district, where Mirage Resorts Inc. and Boyd Gaming Corp. plan casino projects.

A groundbreaking ceremony is set for tomorrow to kick off the 2 **-year construction project. It will also signal the end of a long, bitter squabble among residents and casino operators divided by the plan.

Eight years after leaving Atlantic City in a huff over strict casino regulations, Mirage Chairman Stephen A. Wynn offered to return and build a Las Vegas-style resort -- if the state would help finance the 2.2-mile road, 2,200 feet of which would consist of a tunnel.

"We're convinced this will redefine Atlantic City, will truly take the place to the next level," said Richard "Skip" Bronson, president of Mirage subsidiary New City Development Corp., referring to the tunnel and Mirage's planned $1 billion casino.

Initially rejected by the City Council, the Atlantic City-Brigantine Connector -- as it is formally known -- was eventually approved as a joint venture involving Mirage, the state Department of Transportation and the South Jersey Transportation Authority, which operates the expressway. The state is to pay $220 million, Mirage $110 million.

According to Wynn, the road is needed to improve access to the marina district site. Such public infrastructure work is typically government's responsibility, especially when the private investment is so large, Wynn contended.

But others, including Wynn rival Trump and Hilton Hotels Corp. casinos chief Arthur Goldberg, call the road project a taxpayer-funded private driveway to Mirage's casino.

The tunnel wasn't all they were angry about: The city, which had been unable to sell the 150-acre former municipal landfill, agreed to sell it to Mirage for $1. In exchange, Mirage is to pay $15 million to move the city's public works garage and police firing ranges from the site.

In addition, the state passed a law guaranteeing sales tax rebates for developers who build on the sites of former landfills, thereby providing a tax break to Mirage.

Trump, who owns three casinos here, filed lawsuits to stop the state funding and helped pay for a suit by Bryant Drive residents.

He wrote letters criticizing the city and state over the incentives, hired consultants to attack the plan and complained that Mirage was getting preferential treatment.

In a telephone interview yesterday, he would not say whether he planned any more challenges. He still believes Mirage would have committed to its project even without the incentives.

"They would've come without having to give away hundreds of millions of
dollars. It could've been much better for Atlantic City. They would've come
without the free land, without the cleanup money, without the subsidies."

Residents, meanwhile, criticized the project as the latest example of a
casino's needs being placed before the people's needs. They said construction
of the tunnel would destroy one of the last stable black neighborhoods in
Atlantic City.

Ultimately, however, Lillian J. Bryant and eight other residents whose homes
were to be razed agreed to $200,000 buyouts by Mirage.

The squawking wasn't confined to Atlantic City. Other New Jersey communities
that wanted help from the state Transportation Trust Fund -- from which $95
million of the state share is to come -- accused the state of giving the
money away to an out-of-state casino developer.

The mayors of South Plainfield, Highland Park and New Brunswick sued. In
September 1997, Superior Court Judge L. Anthony Gibson dismissed the suits,
saying there was a legitimate need for the project even before Mirage came
along.

In addition to Mirage and its site partner, Boyd Gaming Corp., the principal
beneficiary of the road project may be the island community of Brigantine,
located just north of Atlantic City.

The road would give eastbound Route 30 traffic signal-free access onto the
Brigantine Bridge -- the only access route to the island -- and eliminate
long delays at an intersection.

"A majority of our residents work off the island," said Mayor Philip
Guenther. "We have 15,000 year-round residents and we can have 30,000 people
in summer. We have only one way in and out. So we're very happy for the plan
and we're grateful that Gov. Whitman and Sen. (William) Gormley and the
others kept Brigantine's interest in mind."

Whitman is scheduled to appear at the groundbreaking, along with Wynn and
local elected officials.
Source: Asbury Park Press
Published: November 03, 1998

SECOND of 2 Stories:
Published in the Home News Tribune
THE ASSOCIATED PRESS

ATLANTIC CITY -- Ground has been broken for a $330 million road and tunnel
that would aid a rival's planned casino, but Donald J. Trump is not done
fighting.

The gambling mogul and developer gave notice this week that he intends to
file two more lawsuits in his effort to derail the project.

These lawsuits will charge that several agencies, including the Army Corps of
Engineers and federal and state environmental authorities, violated
environmental laws by granting permits for the project, according to a letter
sent to the agencies Tuesday.

A gala groundbreaking, featuring Gov. Christie Whitman -- a likely defendant
-- was held the next day.

Because government agencies are being sued, Trump is required to give at
least two months' notice before actually filing the lawsuits.

The tunnel -- formally known as the Atlantic City-Brigantine Connector --
will be part of a 2.2-mile road linking the foot of the Atlantic City
Expressway with the city's marina district, where Mirage Resorts and Boyd
Gaming Corp. each plan Las Vegas-style casinos on a 150-acre site that once
housed a municipal landfill.

The letter from Joe R. Reeder, lawyer for Trump Hotels and Casino Resorts
Inc., charged that the Army corps, environmental agencies and the South
Jersey Transportation Authority violated the Clean Water Act and other laws
in authorizing the project.

Construction of the casino hotels on the former landfill site "will liberate
contaminants," putting workers and residents at risk, and possibly let
dangerous materials seep into an aquifer used for drinking water, Reeder
wrote.

Transportation Authority spokesman Peter Hartt said yesterday, "We have no
reason to believe that this attempt will be any more successful than Trump's
prior attempts."

Mirage Resorts Inc. Chairman Stephen A. Wynn, who attended Wednesday's
ceremony with Whitman, had prodded New Jersey to build the road, saying he
could not commit to his $1 billion, 2,000-room hotel casino without
assurances that government would improve access to the site.

Mirage ultimately agreed to pay one-third of the cost of the tunnel, with the
state paying $220 million.

>From its inception, the proposal was dogged by criticism, lawsuits and ugly
public protests -- from existing casino operators, local residents and public
officials elsewhere in New Jersey who objected to the use of $95 million from
the state Transportation Trust Fund in the funding formula.

Trump, who owns three Atlantic City casinos, had filed other lawsuits to stop
the state funding and helped pay for a suit by local residents. He said he
and other casino operators feel taxpayers were being forced to fund a private
driveway for Wynn.

Wynn, who ran the city's Golden Nugget casino in the early 1980s but left
Atlantic City in 1987, has promised to build a 40-story casino with 12
restaurants, extensive retail shops and tropical gardens. Ground will be
broken for it next year, after environmental cleanup on the former landfill
is complete.
* copyright 1998 The Associated Press
Source: Home News Tribune
Published: November