Time Magazines:
All Issues As Lot
1959 * 1960 * 1967 * 1969 1974 * 1981 * 1987
Life Magazines:
1958 to 1970
Postcards:
CALIFORNIA
CATS
CONNECTICUT
CHICAGO, ILLINOIS
DISNEYLAND
MARYLAND
MINNESOTA
MISSOURI
NEVADA
NEW JERSEY
NEW YORK
OHIO
PENNSYLVANIA
PROVIDENCE, RI
SOUTH DAKOTA
VERMONT
WALT DISNEY WORLD
HOTELS & MOTELS - STATES A to L
HOTELS & MOTELS - STATES M to Z
Music CD's, DVD's, Books:
Half.com
Amazon.com
Customer Comments:
"I just thought that I would let you know that the TIME magazine I ordered
from you arrived safely a couple of days ago. The condition of the magazine
is excellent - and just as you described. Thank you so much for prompt,
efficient and honest service."
"I received the Chicago 1933 postcard yesterday in perfect condition. You did a great job packaging it."
"We got the Time magazine. It's the best condition of all we've gotten. Thanks."
The Cherry Hill Inn, Race Track and Shopping Center - Some History
Cherry Hill Inn was opened in 1953. It was demolished to make way for the LOEWS Megaplex with 24 screens, I am guessing sometime in the early 2000's.
Cherry Hill Mall opened across the street on October 11, 1961 (date source: http://www.courierpostonline.com/125anniversary/reporter.html)
Garden State Park opened in 1942 and was rebuilt in 1985 after a massive fire destroyed the original track in 1977; it closed for good in 2001 and is awaiting demolition..
Source of Data Below: Joseph A. Gambardello, Philadelphia Inquirer Staff Writer
The names are legend: Cinelli's Country House. The Rickshaw Inn with its 22-karat-gold-plated roof. The Latin Casino. The Hawaiian Cottage, which had an entrance shaped like a pineapple. Showy has never been a bad word in Cherry Hill.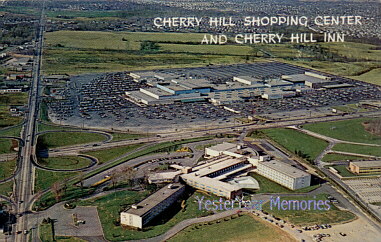 Across from the track, on a rise that had been the Cherry Hill Farm, Mori opened the Cherry Hill Inn in 1953 and turned it into a weekend getaway for folks from Philadelphia and New York City. It boasted silver and French service in the dining room, paintings of thoroughbreds in the lobby.
"Get Away to It All," promised a 1965 ad in the New York Times. "Theater. Dining. Swimming. Nightclub. Fun. Sports."
The blurb could have added "Shopping," because in 1961, across Route 38 on what had been the George Jaus Farm, Rouse Co. launched an experiment that would alter the face of American retailing.

It was called Cherry Hill Mall, a climate-controlled temple to shopping that featured two big-city department stores - the local Strawbridge & Clothier and Newark's L. Bamberger & Co. - connected by a promenade of palm trees, fountains and aviaries with exotic birds.

People came from all over to see the new shopping center - the first of its kind on the East Coast - little aware of the impact it would have.

The mall's slow-moving but powerful shock waves would nearly kill off the main streets in Moorestown and Haddonfield, traditional shopping districts for anyone who lived in Cherry Hill, and seal the fate of others. The rumbling also was felt on Market Street in Philadelphia, where department stores would close as one mall after another opened around the region with hopes of imitating Cherry Hill's success.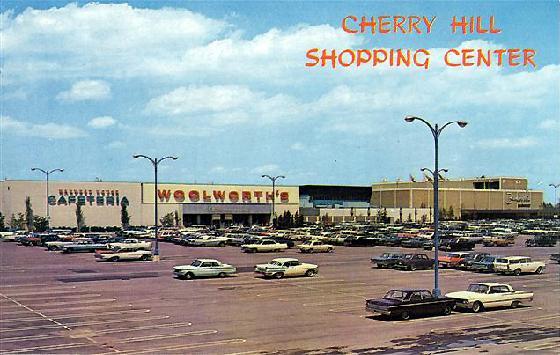 Some have called the mall Cherry Hill's main street, but in many ways it was - and is - extra-territorial, a gathering place for a region, not one town alone.

Besides begetting others like it, Cherry Hill Mall attracted shopping centers, car dealerships and fast-food restaurants while constantly reinventing itself to meet shifts in the world of retail. And, of course, you basically had to have a car to get to any of them. Today, there is hardly a stretch of highway in Cherry Hill that is not handed over to commercial purposes.

Marlton Pike - Route 70 - from border to border is a prime example. The stretch west of Interstate 295 once played the role of Cherry Hill's Broadway with its nightclubs, hotels, restaurants and diners.

On any given night you might have seen Frank Sinatra, Tom Jones or the Supremes at the Latin Casino. Ralph Natale might have been found holding court in the bar of the Holiday Inn before he became a mob boss, or at the Diamond Diner after he did. One night a small-time hood known as "Monk" stole framed art prints from the bar at the Sheraton Poste Inn during cocktail hour. And a kid who used to sell the Bulletin at the racetrack could tell you about the losing horse player who offered to sell his watch for bus fare back to Jersey City.

Go to Ponzio's diner today and you can still see the politicians and the movers and shakers from throughout Camden County noshing and schmoozing.

But the world that sprung up around the racetrack faded away. First there was the spectacular fire that burned Mori's grandstand to the ground in 1977, two years after Mori himself had died. And when legalized gambling arrived in Atlantic City the next year, the days of big-name acts at the Latin Casino were numbered.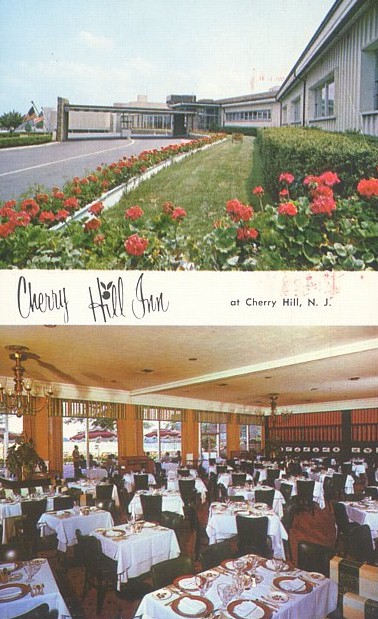 Other landmarks disappeared one by one. The Cherry Hill Inn - gone. Turned into a Loews cinema megaplex. Cinelli's - gone. Turned into an office building. Hawaiian Cottage - gone. Turned into an Olive Garden. Rickshaw Inn - gone. Now a vacant lot waiting for a car dealership.

And the Cherry Hill Lodge, which was the second of Mori's hotels and would have fit in just fine in Aspen, Colo., has been converted into an assisted-living facility. An investment banker named Robert Brennan rebuilt the racetrack and it reopened in 1985. But the magic was brief, a victim of changing tastes and cursed by Brennan's felonious financial dealing.

On May 4, 2001, an era ended in Cherry Hill when Dangling Dream, a 4-year-old filly, went into the records as the last thoroughbred to cross the finish line at Garden State Park.

What it all came down to was that the development potential of the track's 223 acres had become more valuable than its use as a racecourse.

But the potential is far from being realized. Plans to build houses, offices and shops on the land - and give Cherry Hill the main street it has done without for so many years - are still just plans. And the ruins of Garden State Park remain, an eyesore and a sad reminder of a gilded age.

In the meantime, Camden, whose jobs and people had drifted to Cherry Hill and other towns like it, is experiencing a waterfront development boom. The aim: to turn it into a major entertainment destination, which, when you think of it, Cherry Hill used to be.

But this is just one chapter in the story.

The population explosion that was triggered by the development boom echoed for two decades. Consider the numbers. In 1950, there were 10,358 people in Cherry Hill. By 1960, the number had soared to 31,522, and by 1970 it had reached 64,395. The latest census put the population at just shy of 70,000.

But it was more than the middle class that headed to Cherry Hill. Some big names found their way here, too. Folks like Muhammad Ali and Jim Bunning, who called Cherry Hill home when he pitched his perfect game for the Phillies in 1964. A few Flyers, including Bernie Parent and Dave Schultz, took up residence in Cherry Hill over the years, as have a number of Eagles, who once held summer workouts at the Cherry Hill Inn.

And in 1959, the Phillies seriously considered locating here until one of the first recorded cases of NIMBY - not in my back yard - put an end to the plans.

Cherry Hill is no longer just a bedroom community. Rush-hour traffic, which once flowed to Camden and Philadelphia in the morning and back in the evening, now is a multi-directional affair. The old Radio Corp. of America inspired the transformation, opening a major engineering facility next to the Cherry Hill Inn in the 1950s. Other firms followed.

Now thousands work at office parks throughout the township, and Cherry Hill is the headquarters for Subaru of America and Commerce Bank, which some wags suggest is the real seat of power in the township, if not all of Camden County.
Looking at Cherry Hill these days - with the boom behind it - is to see a place trying to adapt to the fast-paced world it helped to define. The township is growing old, as are its people - the median age is 41.8 years, compared with 29.5 in the 1960s.

Some parts of town are feeling the aches that have wracked inner-circle suburbs for the last 20 years, including poverty and dilapidated housing. And on the commercial strips, wrecking crews are as common a sight as construction crews, tearing down to make way for something new.

The neighboring townships of Mount Laurel, Evesham and Voorhees, in the meantime, have seen their farms disappear and are looking like Cherry Hill with their own subdivisions, shopping centers and office parks.

Moving up in Cherry Hill also can mean moving further out. One result is that South Jersey seems to be running out of space for highways.

If you don't live or work in Cherry Hill, it very well might be a place you have to drive through on your way to wherever - that is, if traffic allows.